It's hard to believe that yet another summer has flown by, and it's time to get ready to go back to school. The crazed busyness of your warm-weather activities, as you rush from sports camps to pool parties to BBQs, is coming to a close, and yet your schedule won't slow down much once the kids head back to the classroom. Getting meals organized tends to be one of the biggest challenges for parents as they prep for the school year, so we've gathered some of our favorite super-easy back-to-school recipes that both you and your kids will love. You'll find that each recipe includes quinoa, which is this year's biggest healthy food trend for families.
Quinoa Breakfast with Mango and Coconut
Whether it's a special breakfast for the first day of school or just a normal day where you want to start the morning off right and give your family the nutrition they need, try something a little different than the regular oatmeal and fruit combo. This Quinoa Breakfast With Mango and Coconut recipe from Super Healthy Kids is incredibly easy to make and has that extra boost of nutrition you're looking for. No sugar and 12 grams of protein! Plus your kids will go to school with a full belly and plenty of energy to get them to lunchtime. This recipe calls for mango and toasted coconut, but you can easily mix up the toppings for variety.
Raspberry Quinoa Smoothie
Another of our favorite breakfast recipes from Super Healthy Kids that the whole family will enjoy is this Raspberry Quinoa Smoothie.  It is especially perfect for kids who are picky eaters and parents who have a hard time getting them to finish their meal and get out the door for school. Sweet and tasty, yet nutritious and packed with protein, this is a great addition for the breakfast table or a mid-day snack. Keep in mind the quinoa will take a little bit of extra time in the blender to get that smooth consistency. You can also swap out the raspberries for different types of fruit to keep the recipe fresh. 
Mango, Jalapeno, and Basil Quinoa Salad
For a light, healthy lunch, try a fresh salad. One of our favorites is this Mango, Jalapeno, and Basil Quinoa Salad from RecipeLand. The contrast of having both sweet and spicy is a palate pleaser, and the ingredients are all simple and easy. Make the salad faster & easier by using Cucina & Amore's Mango & Roasted Peppers Quinoa Meal. This salad also preserves really well in the fridge.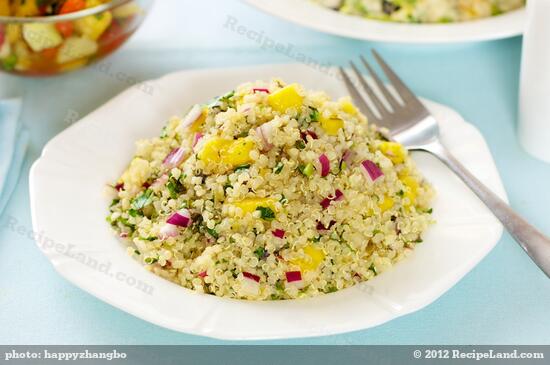 Crispy Black Bean Quinoa Burritos
This recipe is a new twist on a perennial favorite of kids: the burrito. For a fast and healthy dinner after long days in class or at work, try the Crispy Black Bean Quinoa Burrito recipe from Two Peas & Their Pod. The recipe calls for several "heart smart" substitutions, like black beans instead of refried, grilled tortillas instead of fried, and quinoa instead of Mexican rice. Use Cucina & Amore's flavorful Spicy Jalapeno & Roasted Peppers Quinoa Meal to add some kick to your burritos and keep the kids away from the hot sauce! This meal can also create plenty of leftovers your family can snack on over the following days.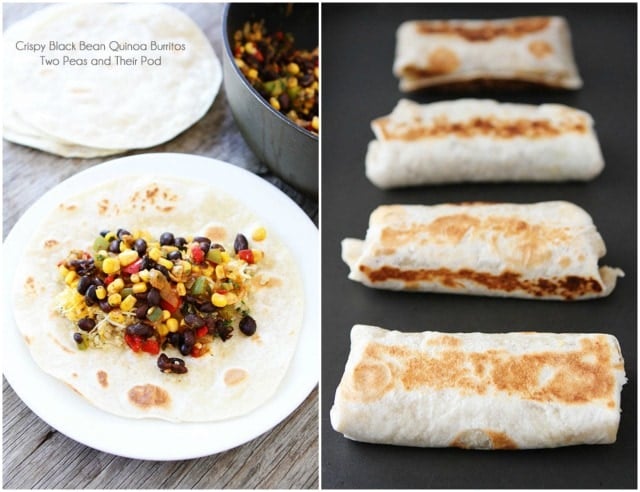 ;
Quinoa Pizza Crust
Instead of calling for pizza delivery at the last-minute in an act of desperation to feed the troops, whip up your own. We've tested several recipes and know that making the crust can be a hassle, but this Quinoa Pizza Crust recipe from Simply Quinoa is much easier and still delicious. With just five ingredients and a blender, you can have a tasty pizza crust ready to go. The one thing to remember is that you must soak the quinoa for 6-8 hours, so set a reminder to soak it before you go to bed at night or leave for work in the morning. For an extra flavorful crust, try using Cucina & Amore's Artichoke & Roasted Peppers Quinoa Meal as your base. Once the crust is baked, you can throw on any toppings you want – sneak some healthy peppers and other veggies on top with the tasty cheeses and meats, and your kids won't know any different. Plus, this is another great leftover you can pack for lunches the next day (or munch on for breakfast yourself).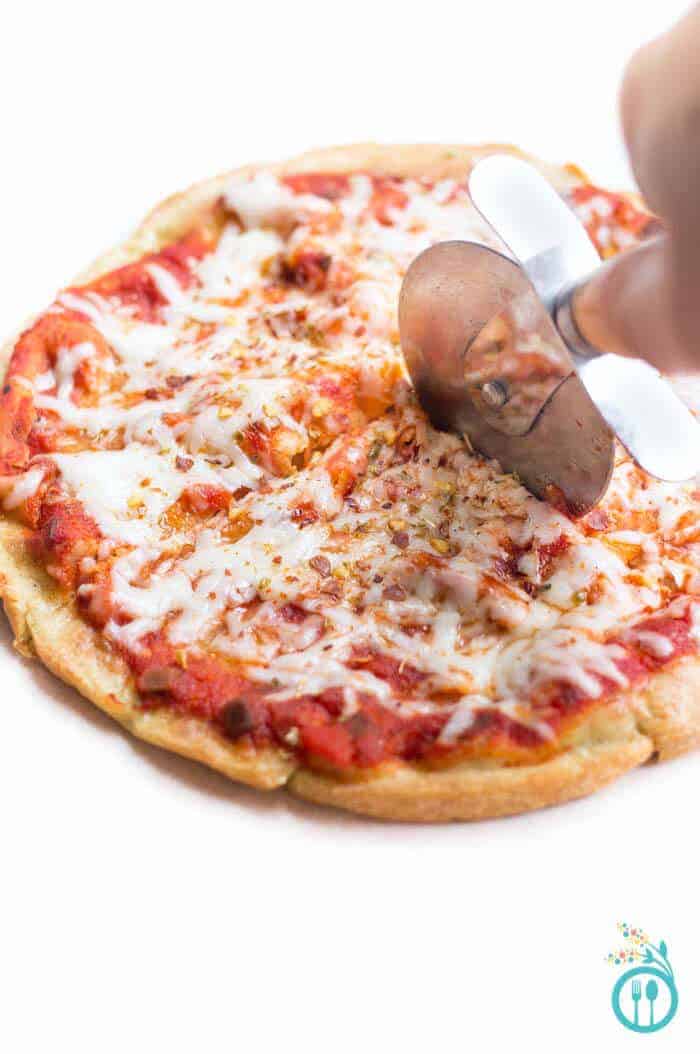 Mexican Chicken Quinoa Casserole
Another easy dinner that's a crowd pleaser is the casserole. This dish has been a staple on family dinner tables for generations because you only have to cook once to serve a lot of people and have plenty of leftovers. Pinch of Yum has a delicious Mexican Chicken Quinoa Casserole recipe you should try. With black beans, salsa, jalapenos, quinoa, and more, it's an interesting and tasty version of the classic casserole. This is a perfect "comfort" food as your family gets back into the groove of the school schedule.
Quinoa-Coated Chicken Nuggets
Who doesn't love chicken nuggets? A favorite food item of kids everywhere between the ages of 5 and 15, you can't go wrong with chicken nuggets. But many parents want to serve something healthier than what you'd get at the Golden Arches. This Quinoa-Coated Chicken Nuggets recipe from Super Healthy Kids is a great alternative. You get all the protein and satisfying crunchiness, without the fat and grease. Plus, they're so easy to make, you can cook a big batch and freeze the extras for later meals. For some added flavor, try using Cucina & Amore's Basil Pesto Quinoa Meal for the coating on the chicken pieces and the pesto as a tasty dipping sauce. Yum!
Quinoa PB&J Cookies
This list of recipes wouldn't be complete unless we added a baked good! One of the most time-honored traditions for back to school meals is the peanut butter and jelly sandwich. While that's a go-to for many parents to throw in lunch boxes, we found a great recipe from Epicurious that takes a different angle on this classic: Quinoa PB&J Cookies. With a rich flavor and crumble-in-your-mouth consistency, these cookies are a delicious (and nutritious) dessert to serve after dinner, or for a quick post-school snack.
There are many great recipes you can try that are quick and easy, yet don't sacrifice nutrition. With these quinoa-based meals, you will launch your family into the new school year, with plenty of energy to get them through the day. And if you just don't have any time to cook, don't forget Cucina & Amore's ready-to-eat Quinoa Meals.